Panacea's mailing address has changed! Please update your records - Care of Panacea-BOCAF 12/7 High Street Highgatehill Brisbane Queensland Australia 4101
Panacea has created a solution to secure accurate reports and the administration of alternative cancer treatments to the public. Our method could bring in ALL suppressed alternative cancer treatments should we be endorsed or receive grants to do so. Any one who can help can listen to the method outlined in the following Radio show interview with us covering the black salve suppression issue.

Radio interview Panacea Researching the efficacy of Black Salve
Panacea has redone our educational video entitled the Panacea Black Salve Production (reloaded) to help public education of alternative cancer treatments.This production features Panacea volunteers who obtained medical proof of this alternative cancer treatment wokring. This treatment like many others has a long history of neglect.This production also outlines the details needed for the creation of facilities or alternative cancer treatment research clinic for further security, support and public education.
We have many more alternative cancer treatments like the Gerson therapy and Budwig diet which critically need public education and security from suppression. All these treatments including black salve are non toxic and have statistical efficacy over the standard chemo, surgery and radiation, but remain unknown to capacity. There is no security to ensure that doctors provide the public with informed consent of these treatments and of their successfully statistics. Nor do they have any security against vested interests. There are many conflicts of interests with this health education in what is now a multibillion dollar pharmaceutical industry.
Presently Black salve is banned from sale by the TGA in Australia.To help gather further medical proof and educate the public Panacea has created the Black Salve facebook site.Alternative treatment to Cancer, Black Salve information and real case information will be posted here. If you have used Black Salve please use this page to post your story to share with others.Also Panacea has created a new Panacea medical research site to help gather medical records of black salve working in human subjects and educate the world. blacksalve.org.au
Panacea tested the Z5 fuel saver on a Kia Sportage 4 wheel drive and achieved a 13% decrease in fuel consumption.
Panacea achieved a 30% fuel saving in a tractor using a low cost open source modification. We were also able to lower pollution. There is no practical need for a carbon tax, real time pollution reduction and fuel saving retrofitting modifications are the only practical way to improve public health in real time check our new Panacea SPAD Production
To deal with dangerous coal seam gas (hydraulic gas fracking) Panacea has produced a new fund raiser video to help launch and purchase sustainable renewable free energy technologies. Playlist:Panacea Sustainable Technologies (fundraiser)
Panacea has visited the Hidro renewable free energy device and feels the most objective campaign to help implement sustainable free energy technology is to begin with an educational drive for public awareness and help police any further neglect.Panacea is currently seeking help and sponsorship to purchase sustainable technologies specifically to operate and educate the public. A small price to pay to educate sustainable carbon negative free energy and cheaper electricity.This device can truly build our children a future.
With the Panacea presentation producing power we can wake up the public and create the critically needed public pressure to police politicians, energy companies and faculties.The PUBLIC message will be simple, there is now no excuse, Hidro remains the most carbon neutral solution and is cheaper electricity. We are all needed to consolidate and mobilize, we can all do a little bit each to help enforce sustainable free energy solutions. If you can assist us in sponsorship ideas or donations please contact Panacea
Panacea has new pollution reduction and fuel saving results. Using 2 low cost and easy install modifications we achieved a saving of over $20,000 a year for 5 cement trucks. Please use this video to help create a new standard in public health plus save fuel and put money back in yur pocket not the oil companies!.
Panacea's Z5 & Xtreme Fuel Treatment Test Results
The new Panacea Newsletter is out as of the end of April 2011
Protect yourself from Japan's Radiation through nutrition Panacea recommends visiting this page and helping your freiends. Dr. Rima Recommends Nutrient Responses to Radiation
Panacea has completed an interview with PESwiki covering our visit and evaluation of the Hidro freee energy device.This is a working commerical FREE energy principle. Panacea has visited Hidro and witnessed their device operating. After evaluating the working principle Panacea feels the most objective campaign to help implement Hidro is to begin with an educational drive for public awareness and police any further neglect, create cheaper electricity and stop gas fracturing.
Therefore Panacea is currently seeking help and sponsorship to purchase A 200KW Hidro unit specifically to operate and educate the public. Please visit our Hidro freee energy device page for details.
Panacea has just completed 3 years of research into fuel savings and pollution reduction modifications to improve public health.We are proud to report that we have successful results!
Video -Fuel Saving Pollution Cutting playlist
Panacea's fuel saving and vehicle modifications PDF
Panacea Interviewed by -Sailing Beyond Knowledge Podcast Exploring uncharted waters, unfolding an evolving humanity, we bring you the last voices of Gaia.
Trevor James Constable's Etheric Rain Engineering
Playlist: YouTube - Broadcast Yourself.
Panacea made this production as a tribute to one of the great humanitarians of history, think of this as a type of auto biography, we would need hours to make a complete one. This is a research video presentation related to the information gathered by Panacea from the following web page, please visit here for complete background: Drought relief
The Panacea-BOCAF Chemtrail Production
Full playlist- The Panacea Chemtrail production
Since 1997 to now in 2010, evidence and data continues to be collected by the grass roots movements to show related health and environmental effects from recorded Aerosol chemical spraying (AKA Chemtrails).Proven facts show the difference between condensation or "contrails" vs chemtrails being observed plus the motivation for the aerosol spraying from many patents. Contaminated rain water and other samples have been identified with the elements mentioned in these patents (Barium, aluminum and many others) and are linked to the growing worldwide reported health effects. A new disease has also been identified with related data collected from Chemtrails (Morgellons disease).
Today in 2010 when this documentary was made, the Mainstream pop artist Prince joins the press showing the German military, NBC news, and many documentaries in presenting enough FACTs to motivate the public to address this chemtrail phenomena. Governments continue to turn a blind eye. We are needed to create public pressure.Half baked investigations have been discounted in Panacea's production and instead a wide range of community reports and data has been included.
These include a concrete plan to set up a global rain water collection program and to recruit private investigators to help track the planes and form a report for the public. A global petition has been created to help create public pressure.Panacea has presented a government lab tested rain water sample showing toxic aluminum and has written records about birds dying. We have spoken at a conference to join the chemtrail's community towards affirmative action. Your input is needed. Chris Carnicom first opened the doors for us with his data, we are ALL now needed to participate or you can forget this issue ever being addressed to capacity. -http://panacea-bocaf.org/chemtrails.htm
Panacea's Free Energy Suppression production Part 1
Panacea's Free Energy Suppression production Part 2
After over 5 years of research into FREE energy technology suppression, unfortunately we can make no apologies that this researchers edition has over 10 hours of footage. I can assure you that together we will make this footage count and it will help us all wake people up and achieve our solution. It is the open source FREE energies communities collective goal to work together to counter this. We have included our proposed solution the end of part 2. The whole OPEN SOURCE genre is featured in part 2. friends, open source engineers our technology and some of our best achievements so far. Plus material the open source community has posted to help educate faculties,government and the public in our genre of research.
Panacea CloudBuster Video Production
Panacea has completed a non profit educational video production to support Trevor James Constable, Wilhelm Reich, James Demeo and the Weather Rangers. This educational research report contains tchnology which can prevent drought, bush fires, smog and much more.-Background Info
Panacea supported FACEBOOK site
Dedicated to the world-wide Open Source grass roots movement for Free Energy, thanks to Jib a tireless open source engineer worker.
Panacea has been interviewed by truth news radio for the second time. In this interview Panacea discussed how to help get free energy to the public. Panacea also reported on the current status of creating a rebate scheme from the government to use suppressed and energy saving technology to cut the carbon footprit and save the tax payer money on fuel.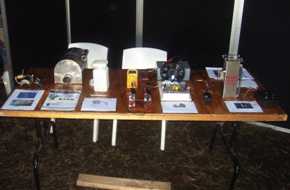 The Panacea University Stand
Panacea presented open source technologies at Australia's biggest green festival (www.greenfest.com.au) in order to educate the public and government to superior pollution cutting and energy saving technologies. This was also done to support the open source free energy movement. Please forward this information to your local member and help create further public access to these energy saving and pollution cutting devices. Technical instructions on the replication of these devices can be found on the www.panaceauniversity.org site.
Please forward this information to your local members of government and help support this work. We need your help to do so.
Panacea presented open source free energy technoology technology for the Greenfest media launch. This was featured on the Australian TV show the "great south east"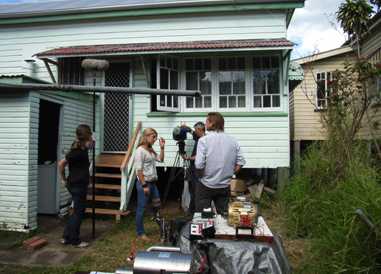 Technologies are pictured center, the camera crew are in the middle.
Screens from this story have been shown in the Utube Panacea Greenfest production.
Panacea Roto Verter production
Panacea has completed a new Roto Verter Video production
Panacea has updated this video with 2 new tests
Google Video- The Panacea Farm Conversion
You Tube- The Panacea Farm Conversion
Panacea has converted this farm to technology which can help every person on the planet. Here you will find the implementation of technologies which are not currently taught in the mainstream curricula and can save energy and cut the carbon foot print better then any other.
This has been done to serve as a educational template which can be forwarded to all farms and to your local politicians to help the implementation of this technology, save energy and cut the carbon foot print. PLEASE HELP AND FORWARD THIS INFO.
Thanks to our sponsor
St. Louis Alternative Energy Technologies Examiner
The Panacea Farm conversion has already been featured in the news. The following coverage has been done by an avid Alt energy support and talented writer Melissa Cody from the St. Louis Alternative Energy Technologies Examiner
Re-education from laymen to engineers, Panacea-BOCAF offers the only free online university dedicated to the research and development of alternative and suppressed clean energy technology. It is a non-profit organization, made up of hundreds of scientists, who devote much of their knowledge and services for free within the Open Source community.
Google video -Panacea RE LOADED Plasma water spark plug production
Panacea has completed a new RELOADED video production on the open source plasma spark plug research. This video details plugs suppressed for over 18 years which can save the public money on fuel and stop pollution. This video also profiles other neglected plamsa research and offers a solution to help stop the political and economic conditions
Panacea Re loaded GEET production
Paul Pantone is going through a personal crisis, we are all really needed to pull together and help stop these political and economic conditions . The GEET Friends and David Pantone (Pauls son) are so far the only ones pushing towards getting Paul Pantone out of there. Please help and forward this information to as many people as possible. Friends, Radio, news blogs, forums etc, if you can do your tiny little bit, we can progress and help Paul Pantone top capacity.
Panacea Hydroxy production RE-loaded
The Answer to high fuel prices is here. STOP PAYING HIGH PRICES FOR FUEL!

ALL NEW cost effecitve and high preformance hydroxy booster designs plus a list of LOW COST kits are now included in our Panacea university hydroxy course document.
More answers are contained in our NEW RE LOADED hydroxy video production.
This new educational video production shows LOW COST water fuel cell technology which can save fuel and cut emisisons. This video also gives you a medium to send to your local politician to make him aware of these pollution cutting devices.
The video features all the best open source hydroxy boosters, the best and cheapest you can get which you can build for FREE to save money on fuel and STOP pollution!
Panacea has entered into the Google 10 challenge and hopes to fund raise to disseminate two technologies
which can help stop global warming save energy and stop pollution!
Panacea-BOCAF Mythbusters viewers challenge
WE ARE OFFERING OUR REPLICATON FOR THEM TO TEST AND BUILD PROPERLY, THEY HAVE NOT ACCEPTED OUR CHALLENDGE!
The open source energy movement has been interviewed by a mainstream blog. Jib from openEd news has interviewed Panacea regarding free energy and the open source movement.
Free energy and the open source energy Movement

New Over- Unity research papers have been posted on the Panacea university site
Please subscribe to our news letter.

In response to the latest free energy inventors death
the news letter subscription section now has security measures to prevent energy suppression! YOU are needed to enforce it please subscribe and look at our news letter section for more details. Panacea's news letter is now active. Please subscribe if you havent already and help stop energy suppression. This will help us bring the open source technology to you.